Trauma & Crime Scene Cleanup
24 HR Trauma & Crime Scene Cleanup Services
Local Trauma & Crime Scene Cleaning Services
Some incidents are too horrible, or too dangerous, to clean up on your own. Violent crimes, suicides, biohazards, and crime scene investigations can create a difficult situation for home and business owners. ServiceMaster Restore's cleaning experts understand these many challenges and can restore your property with extreme care and professionalism.
Trauma & Crime Scene Cleaning
It takes a quick response, dedication and sensitivity to handle the rigors of violent crime and accident scenes. ServiceMaster offers specialized trauma cleanup services — we are a partner you can trust with restoration when you need it most. We can help with any trauma incident, including:
Evidence Gathering Chemicals
Crime Scene Cleanup & More
Servicemaster has proven cleaning processes for every trauma incident. Our restoration experts are ready to help with every incident, including:
Crime Scenes
Homicides
Suicides
Natural Death
Unnatural Death
Trauma Accidents
Certified Trauma Cleaning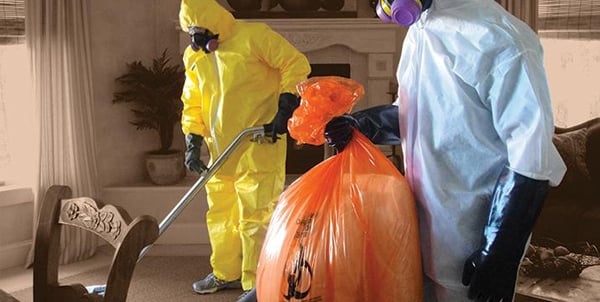 Federal laws require bio-clean technicians to be trained in removing all signs of biological contamination. Blood, bodily fluids, and tissues all carry significant risks if they are not cleaned and disposed of properly. 
Our experts are certified and equipped to control blood-born pathogens, utilize proper protective gear, and handle and dispose of biological materials. We provide services that meet all health and OSHA regulations.
Call ServiceMaster 24/7 for a quick response to local trauma and crime scene cleanup services.  
Our technicians handle sensitive questions with assurance and skill, and we approach each job with integrity and respect for grieving families and loved ones.
The scope of trauma & crime scene cleaning varies greatly. ServiceMaster will quickly evaluate the job and provide you with an accurate free estimate.